We breed for top quality and not quantity. At present we expect a litter per year. Prices for each litter are determined by the bloodlines (pedigree) and the individual qualities of the sire and dam. This price includes micro-chip, puppy shots and CKC registration. We guarantee our pups to be healthy, and be free of congenital defects.

Our bitches are selected on the basis of temperament and natural ability in the field. We breed along field trial/hunting bloodlines in order to produce fast, stylish but trainable dogs.

We know the health status of all our breeding chessies including Progressive Retinal Atrophy (PRA), Degnerative Myelopathy (DM) and Excercise Induced Collapse (EIC). As hip dysplasia is an inherited malformation of the hip joint, all our breeding animals are x-rayed to ensure they are clear of this defect.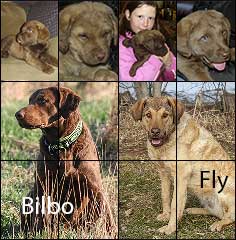 EXPECTED LITTERS
PUPPY UPDATE NEWS!!!

The 18 mo old male we had posted here
has found a new home.

Click to see photos of the pups.

Contact: Westpeake Kennels Phone: 403 746-5664
chessie@westpeake.com