We have very bad news in our kennel. Our fine young female Wespeake Maisey Ida developed a very serious medical condition this fall. She has what is possibly non-infectious meningoencephalitis.

This has resulted in having to remove her as a breeding female - so we'll not be producing any further chessie litters in the forseeable future.

This is a very serious condition and possibly life threatening. This has devastated us and will be disappointing to the many folks that have contacted us for pups.

Please feel free to contact us about any possible litters coming up that we are aware of this winter or next spring.

I am still very interested in the pups we have sold and are available for training help or advice if you need it.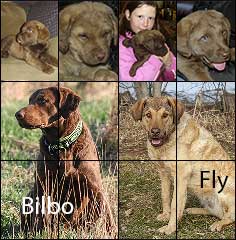 EXPECTED LITTERS
NOTICE!!

We have no litters planned. See notice on this page.

Contact: Westpeake Kennels Phone: 403 746-5664
chessie@westpeake.com